Welcome to Urban Yoga
---
Thursday July 16th 7:30pm
"Kirtan Soul Revival"

NYC's funkiest devotional mantra music experience!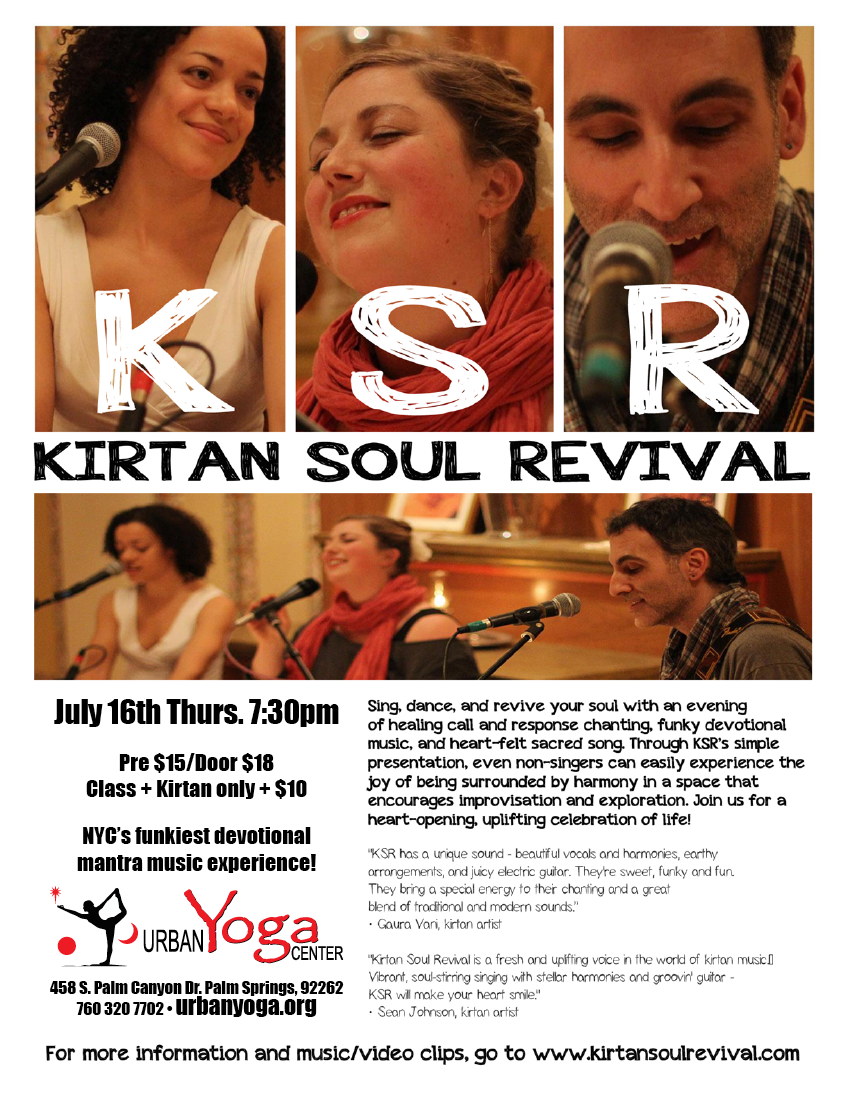 Kirtan Soul Revival (KSR) is New York City's funkiest devotional mantra music experience. They use traditional Sanskrit mantras, original music, spirituals and music from around the world to create a unique, dynamic sound that merges funk, rock, rhythm and blues, world grooves, and chants. Lush three-part harmonies add fullness and depth to their sound.Kirtan is a celebration of spirit through the chanting of sacred names. KSR invites their audiences to participate fully through call-and-response chanting. The Kirtan Soul Revivalexperience invites participants to open their hearts to Spirit and to life! http://www.kirtansoulrevival.com
KSR has led kirtans in and around New York City and has toured all around New England and the West Coast. They have played numerous times at Kripalu and at festivals such as Wanderlust, BhaktiFest, Ahimsa Yoga & Music Festival, VerMantra, and Berwick Yoga Festival in Nova Scotia.
They also teach heart-centered yoga classes and workshops infusing flowing vinyasa and breath-centered movement with live music, chanting, and storytelling.
Check out Kirtan Soul Revival in this video
---
---
For a complete listing of all Classes and Times at Urban Yoga click
HERE
We have some AMAZING happenings at UYC... Find out what's shaking!
We have Gift Certificates, Great new clothes as well as India Swag, Gorgeous Shawls, Blocks, Mats, and Super Hip new CD's...all in the UYC Boutique
---
---
You can help Urban Yoga continue to offer the Teen Yoga Program to local high school students. The Teens receive Physical Education Credit and of course, all of the benefits of Yoga and Self Reflection. We appreciate anything you can donate to this worthy cause. Click the 'Donate' button below to give your support. Love, Kristin

---
| | |
| --- | --- |
| Copyright 2015 Urban Yoga Center All Rights Reserved | |