Current Events

Scroll Down for On-Going Events

• ============================================================== •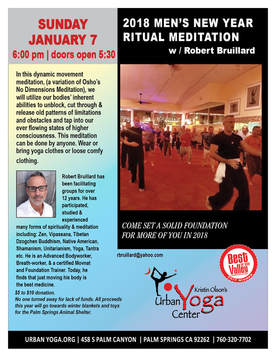 SORRY, THIS EVENT IS POSTPONED
DUE TO A FAMILY EMERGENCY
CHECK FOR UPDATES ON FACEBOOK



https://www.facebook.com/rbruillard



• • • • • • • • • • • • • • • • • • • • • SUNDAY
JANUARY 7 20186:00 pm | doors open 5:302018 MEN'S NEW YEAR
RITUAL MEDITATIONw / Robert Bruillard
---
---
---
• • • • • • • • • • • • • • • • • • • • • • • • •
UPCOMING
MEDITATION


WEDNESDAYS




now at 6:30pm

•••••

Jan 17


Yoga for Hips
Garrell Herndon

•••••













---
---

• • • • • • • • • • • • • • • • • • • • •
SATURDAY
JANUARY 20 2018
Music at 7:30 pm | doors open at 7:00

GIRISH
& his fine band
Sacred Chant Music Concert

Celebrate 2018
Season Opening Party

Raffle, Silent Auction,
Pot Luck • Bring a dish to share!
Bring the family! Kids welcome!

Winter Boutique Sale
We'll have CAKE!!

Girish will have his book
Music & Mantras + CDs available for sale

$20 pre | $25 door







---
---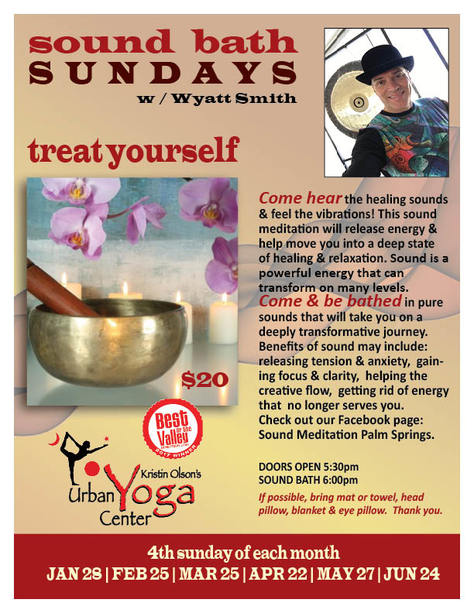 • • • • • • • • • • • • • • • • • • • • • • • • • •
sound bath sundays
doors open 6:30

JAN 28
FEB 25
MAR 25
APR 22
MAY 27
JUN 24


end each month
with a soothing sound bath
$20/door
w / Wyatt Smith

---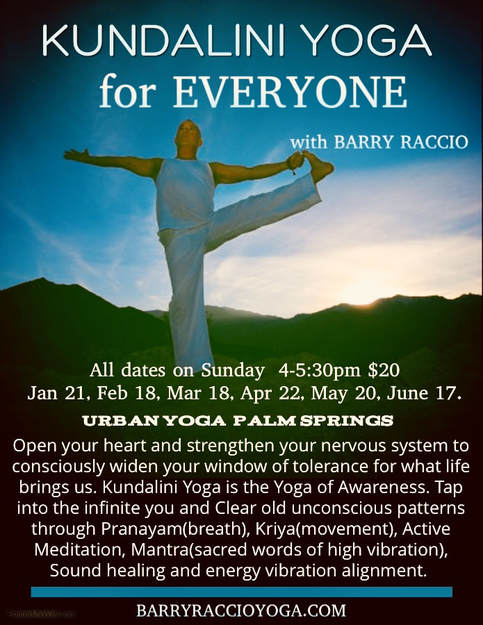 • • • • • • • • • • • • • • • • • • • • • • • • • •
KUNDALINI SUNDAYS
4:00-5:30

JAN 21
FEB 18
MAR 18
APR 22
MAY 20
JUN 17


KUNDALINI
FOR EVERYONE $20/door
w / Barry Raccio

---
• ============================================================== •
On-Going Events



• • • • • • • • • • • • • • • • • • • • • • • •

Mondays & Wednesdays 12:15p - 1:15p
Integral Yoga with Angela de Sarneaux
---
Yoga with Kristin at SUNNYLANDS
Fridays 12 noon
Dec 29, Jan 5, Jan 12


---

Admission is free.
Sessions are held on the Great Lawn
at Sunnyland's Annenberg EstateFor visitor information
on Sunnylands click HERE


Sunnylands Yoga on the Great Lawn!

Kristin Olson offers Hatha based yoga
with easy to adapt poses.
The stretching & breathing techniques
are designed to be doable by everyone
from beginners to advanced yogis.
Kristin has 40 years of teaching experience with professional expertise,
humor, and a big heart.
Rooted in nature and breath,
Kristin's Sunnylands Yoga
is the real deal,
joining body mind & spirit
for a delicious healing
and community experience.
All Levels.


---
The Teen Yoga Program
for Palm Springs High School
Tuesdays & Thursdays
3:00-4:30pm


Palm Springs Leisure Center


TEACHERS
Jen Jivani & Lana Smithner


760.808.2288

eMail: shaktigaia@gmail.com




Please help Urban Yoga continue to offer


the Teen Yoga Program
to Palm Springs High School students


The kids receive Physical Education Credit and of course,
all of the benefits of Yoga and Self Reflection.
We appreciate anything you can donate to this worthy cause.
Please click the 'Donate' button to give your support. Thank you.
Love Kristin


• ============================================================ •