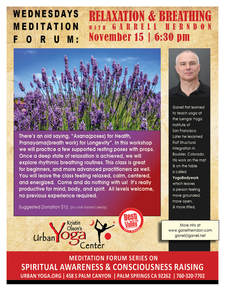 ---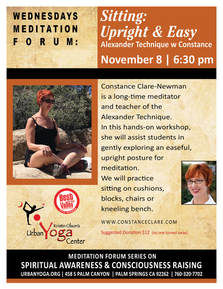 • • • • • • • • • • • • • • • • • • • • • • • • • • • •
DANIEL BLAKEMAN

Tuesday April 18
6:00 - 7:30p
Nidra Flow


Wednesday April 19
6:30 - 8:00p
Meditation with Shiva
Bhakti Flow


Thursday April 20
12:00 - 4:00p
Teacher's Workshop
for CE Credits


• • • • • • • • • • • • • • • • • • • • • • • • • • • • • • • • • • • • • •
* Classes $15 each or Use Class Series
Register below

2016 Wednesday Meditations

A complete listing of all Meditations offered at Urban Yoga

• ============================================================== •

• ============================================================== •

On-Going Events



• • • • • • • • • • • • • • • • • • • • • • • •

---
Urban Yoga at SunnylandsKristin's classes start again
November 11, 2016

2nd and 4th Friday of each month.

Admission is free.
Sessions are held on the Great Lawn
at Sunnylands Annenberg Center.
For current schedule & more information
on Sunnylands click HERE





Urban Yoga at Sunnylands

Sunnylands Yoga on the Great Lawn!

Kristin Olson offers Hatha based yoga
with easy to adapt poses.
The stretching & breathing techniques
are designed to be doable by everyone. Kristin has 40 years of teaching
with professional expertise,
humor, and a big heart.
Rooted in nature and breath,
Kristin's Sunnylands Yoga
is the real deal,
joining body mind & spirit
for a delicious healing
and community experience.
All Levels.


---


The Teen Yoga Program
for Palm Springs High School
Tuesdays & Thursdays
3:00-4:30pm


Palm Springs Leisure Center


TEACHER JEN JIVANI


760.808.2288


eMail: shaktigaia@gmail.com





Please help Urban Yoga continue to offer


the Teen Yoga Program
to Palm Springs High School students


The kids receive Physical Education Credit and of course,
all of the benefits of Yoga and Self Reflection.
We appreciate anything you can donate to this worthy cause.
Please click the 'Donate' button to give your support. Thank you.
Love Kristin

• • • • • • • • • • • • • • • • • • • • • • • •


• ============================================================ •